Preparing to Enter Japan: Essential To-do List
Below is a basic check-list for what you need to do before you leave your country of origin. If you are starting your preparations, use this list as your guideline; if you have finished your preparation, please double-check if there is anything you have left out!
Check List
Check about the cost of living for Japan.
> A summary of expenses for international students
Check about the required documents to apply for Status of Residence and a Visa.
> Visa and Status of Residence
Apply for a Visa at the Japanese embassy or consulate.
Check with your University department's contact person whether you need to find your own lodgings in Sendai.
Confirm your lodgings in Sendai.
> Finding Accommodation
Check up on insurance.
> Insurance
Prepare a credit card. You need one to contract a mobile phone, etc.
> ATMs
Book your flight.
Check access from your port of entry to your final destination.
> Access
Inform your University contact of your desired date for moving in to your accommodations, reserving a hotel if necessary.
Pack your Certificate of Eligibility in your carry-on baggage.
> Packing Your Luggage
Undergo allergy testing before your arrival.
For a more comprehensive checklist, download our PDF checklist below!
*While the checklists are primarily intended for international researchers, international students can use the checklist as a basic guideline as well.

For Short-term Residents
(stay period of more than 3 months)
For Long-term Residents
(stay period of 3 months or less)
Checklist for Host Department
Please visit the TU web portal (*internal access only)
Pocket Guide for International Students and Scholars
This Pocket Guide is designed for international students and staff who are planning to come to Japan. It provides brief information necessary for arriving to Sendai, such as including pre-arrival preparation and transportation in Japan. (Last updated: June 28, 2019)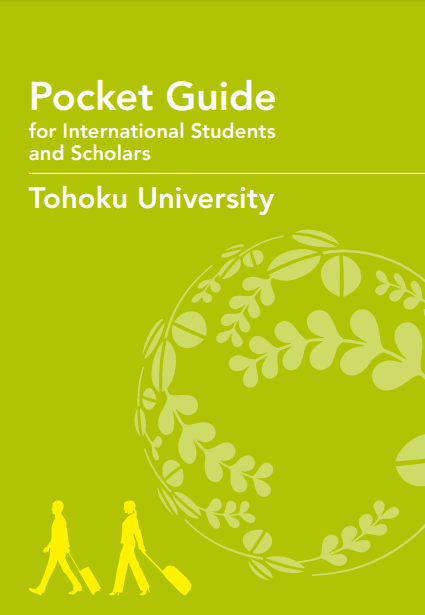 Support Services
The International Support Center provides various support services free of charge to all international students, researchers and faculty members to ensure that they can transition into their new lives in Japan with ease.

International students, faculty members and researchers as well as their receiving parties (host department, lab and professors) are all welcome to apply for this support services.