Featured Video on Garbage Disposal
This video was produced by the International Student Help Desk.
The video provides comprehensive information on how to sort and dispose of garbage in Sendai. This also includes some quizzes to check your understanding, and examples of common mistakes in garbage disposal.
By watching this video, you will be able to quickly learn the basic rules of Sendai City.
The International Student Help Desk is a support team that consists of Tohoku University students. They provide a variety of support for international students in both academic and daily life, based on their own experiences and from the students' perspective.
Garbage Disposal
In Japan, each city and town has different rules on how to dispose of garbage. Therefore, Sendai City's rules are different from those of Tokyo and other cities.
In Japan, all household garbage* must be sorted into various categories.
*Household garbage: Garbage from general households, not from businesses, restaurants, etc.
Each resident area has its designated days, times, and place for household garbage collection. Please ask your landlord, neighbors, or the city office about these rules.
In Sendai, you must use the designated plastic bags when you dispose of your household garbage. There are two types of the bags. To dispose of plastic waste and packaging materials, please use the red bag.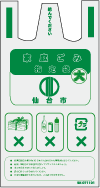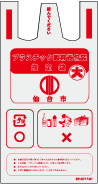 Bottles, cans, and paper are collected as recyclable items on a designated day separate from household garbage.
Bulky Waste Disposal
Bulky waste is one that does not fit into the largest bag such as furniture or mattresses. The rules for disposing of bulky waste differ from those for household garbage.
When you want to dispose of bulky waste, you need to make an appointment in advance. For more information, please refer to the following link.