[Important] COVID-19 Negative Certificate
Some countries/regions require those entering the territory to present a COVID-19 negative certificate.
As policies vary depending on the country or region and are constantly changing, please ask the relevant embassy for the most updated information.
Pre-departure Workshop
The International Student Help Desk, consisting of the university's current students, provides online workshops twice a year for international students who are leaving Japan. Resources and videos from past workshops are available on Google Classroom.
For more information on upcoming workshops and how to register for Google Classroom, please visit the following webpage and/or Facebook page.
Procedures before Leaving Japan
International Students and Researchers must go through numerous formalities before leaving Japan. The required procedures are listed below for reference. If you have any questions, ask the Education Affairs section or general affairs section at your department.
Procedures at the University
Return Tohoku University ID Card (Student ID)→ If you are a student, ask the Education Affairs section at your department. If you are a researcher, ask the general affairs section at your department.
Books you have borrowed from the library →you must be sure to return all of the books that you borrowed before returning to your country.
Other procedures
Procedures at the Ward Office
A. Notification of Moving Out
Please submit a Moving-out Notification (tenshutsu todoke) at your ward office about two weeks before your scheduled date of return to your home country. Please bring your Residence Card, Individual Number (a.k.a. "My Number") card, and passport.
Your My Number cardwill be discontinued, but you will need it if you re-enter Japan in the future. So, please keep your canceled My number card together with your passport.
B. Withdrawal from National Health Insurance and National Pension
You have to go through withdrawal formalities at the registered city or ward office, or ask an assigned representative to do so on your behalf, fewer than two weeks prior to the expected date of departure. After showing some material that demonstrates your flight information, such as an e-ticket, the office will modify the expiration date on your card so that it is set for the date of your departure. You will need to pay the final premiums of your health insurance in cash, as a bill will be issued then. The premiums are paid monthly, so you cannot be accounted for on a pro-rate basis. For example, if you leave Japan on August 2, you will still need to pay the monthly premium for the whole month of August.
C. Water Bill
You may be required to pay your water bill.
Closing Bank Accounts
Bank accounts, including those at Japan Post Bank, have to be closed in person at the service counter. If you have registered for automatic public utility debits from your account, you must ensure that all debts are paid before closing. If you are the recipient of a scholarship or salary, you must ensure that funds for the final payments are deposited into your accounts before the account is closed.
[Necessary items ]
ID such as Residence Card (or Alien Registration Card) or passport
Personal seal (inkan, stamp) (if used when opening the account)
Bankbook
[Business Hours ]
Banks: 9 am -3 pm
Japan Post Banks (Yuucho Bank): 9 am – 4 pm
Residence Card (or Alien Registration Card)
The Residence Card must be returned to the immigration officer at the port of departure; do not pack it in your check-in luggage.
Apostille Authentication
Apostille certificates and official seals are used to certify the authenticity of official documents issued in Japan so that their validity is recognized in other countries. Those requiring certification should inquire in advance with the institution to which the documents will be submitted and their goverment's embassy (consulate) in Japan.
Reference (Japanese Ministry of Foreign Affairs URL)
https://www.mofa.go.jp/ca/cs/page22e_000416.html
Others (Cell Phone, PC provider, Electricity, Gas etc.)
If you have subscribed to a cell phone, Internet, electricity, or gas provider, please be sure to cancel your service before you leave Japan. Further, please make sure that the final payment has been made.
Pre-departure Checklist
You may use the checklist below as a guide to assist you in preparing for your departure from Japan.
Review the timeline and determine the applicability of each item, making sure that you have completed all essential tasks and preparations before you leave.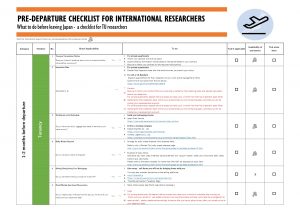 Support For Those Leaving Japan
The International Support Center is available to provide assistance with your preparations to leave Japan.
Apply to our support services from the button below:
Who will receive our support service?