Visa, Status of Residence and Certificate of Eligibility
All foreign people who intend to enter Japan must have a valid passport with, in principle, a visa already stamped on it.
When entering Japan, they are examined by immigration officers to determine the Status of Residence and duration of residence, which are stamped on the passport. It is only after these procedures that foreign people can enter Japan.
In order to obtain the Status of Residence, you need a Certificate of Eligibility (COE).
There are countries and areas whose residents are not required to have a visa if their stay in Japan is for less than three months and they are not engaging in an activity in which compensation will be awarded.
Visa
A visa is issued to a passport as a condition of entering Japan, in advance of the departure at Embassies of Japan or Consulates-General of Japan abroad. It is a "recommendation" for entry and please be aware that it does not guarantee your entrance.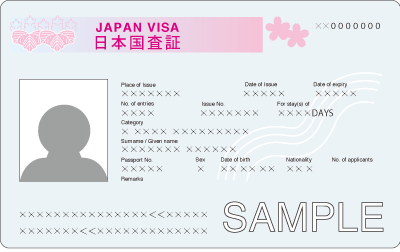 Status of Residence
Status of Residence is a permit to stay in Japan. If you intend to study / research at Tohoku University, you need to obtain appropriate Status of Residence.
Type of Status of Residence is designated by the Japanese law according to the nature of activity the applicant intends to engage in while in Japan. It is stated beside the "Landing Permission" seal on the passport.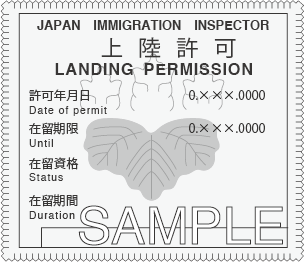 Certificate of Eligibility (COE)
A Certificate of Eligibility is necessary if foreign people stay in Japan for longer than 60 days. They should in principle first obtain one before coming to Japan. The Certificate of Eligibility is issued by a regional immigration authority under the jurisdiction of the Ministry of Justice in Japan. It will make the examination process smoother in obtaining a visa and in landing. The COE is valid for three months after issuance.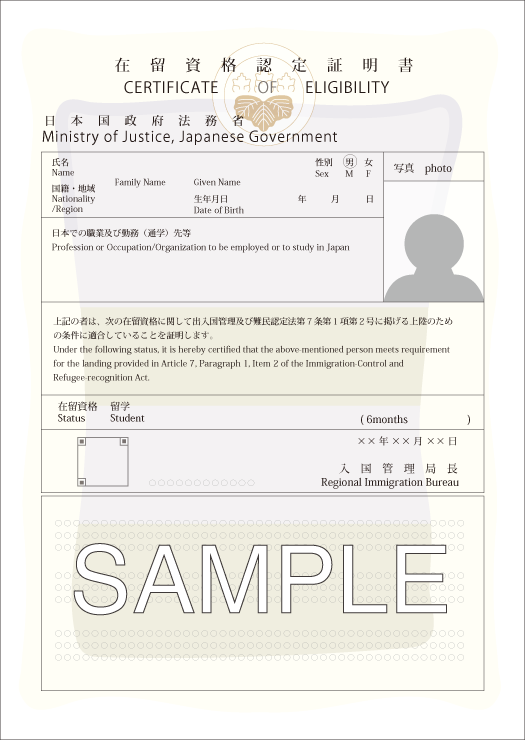 Residence Card
This is issued by the Ministry of Justice in Japan for foreign nationals who are on mid- and long-term residence with permission for residence granted when landing, or when applying for change in Status of Residence or Renewal of Residency. In order to prevent forgery, it has an embedded IC chip that contains all or part of the information stated on the card. Foreign nationals who are older than 16 years old have to carry their Residence Card all the time.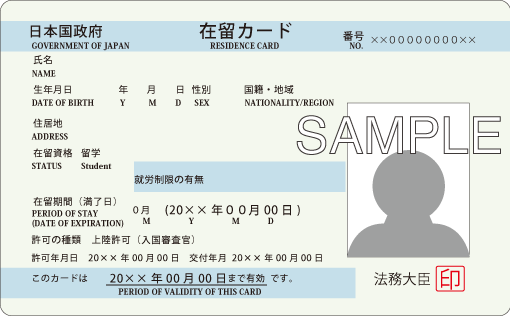 VISA/Status of Residence Procedures
1. Confirm appropriate visa and status of residence
Please see which visa/status of residence will be appropriate by the Visa and Status of Residence Identification Chart.
If you need a Student, Professor, or Cultural Activity visa, you must first obtain a Certificate of Eligibility.
If you fall under the category of Short-Term Stay, please see the Short-Term Stay Visa page.
2. Obtain a Certificate of Eligibility
If you fall under the category of Student, Professor, or Cultural Activity, you must first obtain a Certificate of Eligibility (COE).
Tohoku University uses a dedicated web application system for COE applications. You will receive documents from your host department that describe the web application instructions and other necessary information. Please complete the web application following the instructions. Tohoku University will check the information you have registered, and apply for a COE to the local immigration bureau on your behalf.
Once the COE is issued, we will send it to you electronically.
For Tohoku University faculty or staff members who will host a student/researchers, please see the following page to learn more about the application process and download the necessary forms.
3. Obtain a Visa
Once you have received your COE, you can apply for a visa at your nearest embassy or consulate of Japan. Please confirm the time required for visa issuance with the embassy or consulate, and complete the visa application well in advance of your departure.
You can download the visa application form from the following website. You can also find the information on what kind of documents you need.
4. Upon entering Japan
Immigration
Enter Japan with your passport, visa and COE.
Be sure to show your COE to the Immigration officer at the airport.
The Immigration officer will put a Landing Permission seal on your passport, which shows the date of landing, the period of stay, and your Status of Residence. At Narita, Haneda, Chubu and Kansai Airports, if your period of stay is longer than 3 months, a Residence Card will be issued. Be sure to confirm that your Status of Residence and period of stay are the same on your landing permission seal and on the Residence Card.
∗ At Sendai Airport a Residence Card will be issued later and mailed to your reported place of residence.
Work permission for part-time jobs
If you are granted "Student" Status with a permitted period of stay longer than 3 months, you can apply for "Permission to Engage in Activity other than That Permitted under the Status of Residence Previously Granted."
This permit is required if you would like to work part time. If your application is approved, please check to make sure the permit is stamped on your passport and endorsed on your Residence Card.