Bicycle
[IMPORTANT] Cyclist Liability Insurance
To ride a bicycle in Sendai, you must purchase cyclist liability insurance according to the city bylaws. The insurance is to compensate for injuries and other damages to others while you are riding a bicycle.
For international students, cyclist liability is covered under Comprehensive Insurance for Student Lives Coupled with "GAKKENSAI" for International Students (Inbound futai-gakuso). Please be sure to enroll in both Gakkensai and Inbound Futaigakusou.

For researchers and faculty members, please confirm whether the cyclist liability is covered under other liability insurance you may already have (such as automibile insurance or fire insurance). If it is not covered under any of your existing insurance, please be sure to get an additional insurance that covers cyclist liability such as personal liability insurance.
Helmet Requirement
Please note that as of April 2023, it is now mandatory for all cyclists to make an effort to wear a helmet while riding their bicycles. This law has been implemented to prioritize the safety of cyclists and reduce the risk of injuries in case of accidents.
International students and researchers are strongly advised to wear a helmet when riding their bicycles to ensure their safety while on the road.
Bicycle Registration for Anti-Theft Purpose
According to the Japanese law, bicyclists are required to register their bicycles for theft prevention. If you purchased your new bicycle at a physical bicycle shop, the shop will complete the registration. The registration fee is 600 yen.
If you are given a bicycle by someone else, you will also need to re-register it. Please bring the bicycle and necessary documents for the registration to a bicycle shop, supermarket or home center that is designated as a bicycle security registration office.
Traffic rules for cyclists
In general, bicycles must be ridden on the street, keeping to the far left. They are additionally permitted on sidewalks of 3m or more in width.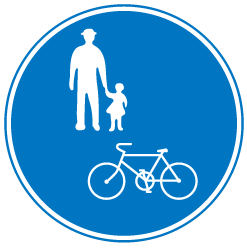 See the following linked pages for your reference.
Traffic safety videos "Do you know bicycle traffic rules?"
The Sendai Tourism, Convention and International Association (SenTIA), has produced the following instructive videos mainly for expatriate residents who are not accustomed to Japan's traffic rules. The videos are designed not only to teach viewers the minimum required knowledge for safe use of bicycles, but to encourage them to comply with the traffic rules and manners as well. Viewers will also learn how to ride bicycles safely and what to do in the event that they have a bicycle accident. Please watch the one provided in your preferred language to help you avoid traffic accidents!
Cyclist safety training
With the revision of the road traffic law on June 1. 2015, cyclists who are caught performing certain "dangerous actions," such as ignoring traffic lights and stop signs, twice or more within three years will be required by law to take a safety training class.
No-Parking zones
There are paid bicycle parking lots around most train stations. For further information, please contact each administrative office. Illegally-parked bicycles are impounded as soon as found. ID is required, and fees will be charged, when you pick up an impounded bicycle or motorbike.
Motorcycle
Motorcycles are generally required to follow the same traffic rules as cars.
[IMPORTANT] Motorcycle & Automobile Insurance
Please be sure to refer to the below information about motorcycle insurance before you start riding motorcycles in Japan.
Automobile
[IMPORTANT] Motorcycle & Automobile Insurance
Automobile insurance in Japan consists of two types: compulsory vehicle liability insurance (自賠責保険/Jibaiseki Hoken) and voluntary insurance (任意保険/Nin'i Hoken).
Compulsory Vehicle Liability Insurance
Compulsory vehicle liability insurance is mandatory for all vehicle owners and it covers injuries to third parties in a traffic accident, regardless of who was driving the insured vehicle. The insurance benefits provided by compulsory vehicle liability insurance are standardized by law and include coverage for death, injury, and residual disability, up to certain limits.

One important aspect to highlight is that Compulsory Vehicle Liability Insurance in Japan only covers injury or death of a third party in a traffic accident. It does not provide coverage for the insured vehicle, injuries to the insured person, or any property damages.
The insurance benefits of compulsory vehicle liability insurance are specified by the law as follows :
Death: up to 30million yen / person
Injury: up to 1.2million yen / person
Residual disability: up to 30million yen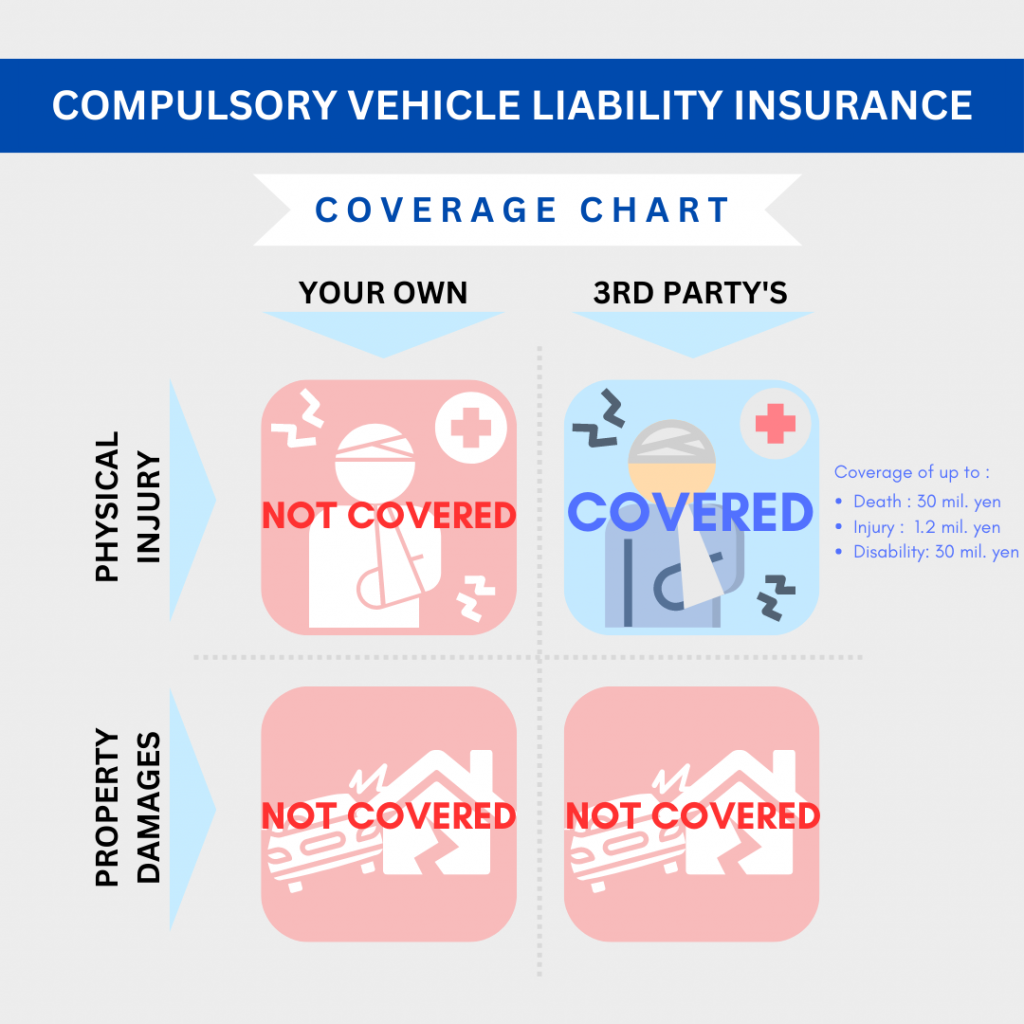 Voluntary Insurance
Voluntary car insurance is optional and can be purchased to supplement the coverage provided by compulsory vehicle liability insurance. Voluntary car insurance covers damages or injuries that are not covered by the compulsory insurance, such as property damage, self-inflicted accidents, coverage for the insurance holder, coverage when the other driver has no insurance, and repair of damaged vehicles.

The amount of insurance benefits for voluntary car insurance is determined by each insurance company, unlike the flat rate payouts of compulsory vehicle liability insurance.
Important Note:
International students and researchers in Japan are highly advised to consider obtaining voluntary car insurance in addition to the compulsory vehicle liability insurance.

While the compulsory insurance provides basic coverage for injuries to third parties, it may not be sufficient to cover all potential damages and injuries in case of an accident. Voluntary insurance can provide additional coverage for expenses that exceed the limits of the compulsory insurance, as well as coverage for personal injuries, property damage, and other situations. By having both types of insurance, you can have better protection and peace of mind while driving in Japan.
Here are a few insurance companies that provide assistance in various languages:
Driver's licenses
There are three kinds of driver's license that are valid in Japan.
1. International driver's license
Issued in a signatory of the Geneva Convention, an international driver's license is valid in Japan
(http://www.keishicho.metro.tokyo.jp/multilingual/english/traffic_safety/e_driving_permit/geneva.html).
The international driver's license expires on its expiration date or after you have been in Japan for one year, whichever comes first. If you wish to continue driving, you must replace the overseas driver's license with a Japanese driver's license before it expires.
2. Overseas driver's license
If you have a valid driver's license issued in Switzerland, Slovenia, Germany, France, Belgium, Monaco or Taiwan, and a translation into Japanese is attached, it is valid and you will have no need for an international driver's license. Like the international driver's license, its validity is limited to one year from your date of entry into Japan.
3. Acquiring a Japanese license
If you have a valid international or overseas driver's license and (in the case of the overseas license) have lived in the country where it was issued for at least three months after the date of issue, you can apply to replace it with a Japanese license at your nearest Driver's License Examination Center.
The following documents are generally required for the procedure.
(Please confirm these details with the Driver's License Examination Center for updated information.)
A valid international / overseas driver's license
Documents attesting that you lived in the country where your driver's license was issued for at least three months after its date of issue (e.g., passport)
A Japanese translation of your driver's license, available from your country's embassy or consulate, or from the Japan Automobile Federation (JAF)
Passport (both the current one and the previous one, if recently renewed)
Residence Card (or Alien Registration Card, if applicable), colour photo 3 cm high and 2.4 cm wide, and handling fee
Contact
Miyagi Driver's License Center
TEL: 022-373-3601
http://www.police.pref.miyagi.jp/hp/menkyo/main/menu.html (Japanese only)
Replacing an international or overseas driver's license with a Japanese license
http://www.police.pref.miyagi.jp/hp/menkyo/main/gaikoku.html (Japanese only)
Purchasing an Automobile
Before purchasing an automobile, you must secure a parking space and apply for a certificate confirming the existence of the parking space. You can obtain this certificate at the main police station of the area in which the parking space is located. It is difficult to obtain a parking space in most areas, and parking fees can be quite high.
When a new car is purchased through a dealer, the cost includes the vehicle price, taxes, license plates (registration) and compulsory liability insurance. You are strongly recommended to buy private insurance coverage as well. The owner of an automobile is obligated to pay a tax, and to have the car inspected periodically.
Because it snows in winter in Sendai and road surface may freeze up, it is necessary to attach a winter tire for exclusive use of the winter. Please consult with the dealer where you purchased your car or shops that sell car goods about purchasing or attaching a snow tire.