After Arrival in Sendai Station
Getting to Katahira, Kawauchi and Aobayama Campus by Train from Sendai Station
After arriving in Sendai via Shinkansen, visitors can easily get to the 3 campuses using the Sendai Tozai subway line.
Refer to the below video for a step-by-step guide on how to easily access the campuses from Sendai station using the subway.
Commuting Guide
The first thing to consider in terms of having a safe university life is how you will commute to the university. We recommend you use of the subway lines for a safer, more pleasant commute.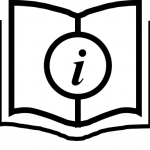 Refer to this Commuting Guide for a more comprehensive commuting guideline.
Nearest Stations to the Campuses
Subway Stations

All TU campuses are located near a subway station and can be easily reached by subway.
The closest subway stations to the campuses are as listed below:

Campus
Nearest Station and Distance
Aobayama Campus
Aobayama Station (Subway Tozai Line) – 5 mins walk
Kawauchi Campus
Kawauchi Station (Subway Tozai Line) – 1 min walk
Katahira Campus
Aobadori Ichibancho Station (Subway Tozai Line) – 7 mins walk
Sendai Station (Subway Tozai Line / Nanboku Line) – 12 mins walk
Seiryo Campus
Kitayobancho Station (Subway Nanboku Line) – 9 mins walk
Bus Stations

Katahira and Seiryo campuses are also accessible by bus.
Campus
Nearest Station and Distance
Katahira Campus
Get off at : Aoba dori ichibancho 1-A Bus stop
(10 mins walk to campus)
Seiryo Campus
Bus Route :"Tohoku Daigaku Byoin Mae" or bound bus

Get off at : Tohoku Daigaku Byoin Mae Bus stop
Campus Shuttle Service
Campus Shuttle Service is a free shuttle bus service that is available to all Tohoku University students and faculty members.
All Tohoku University students and faculty members can take the bus to move between campuses to attend lectures, talks, meetings, student activities etc. On top of that, students can also use this service to commute from their homes to the university.

There are 2 types of shuttle services available :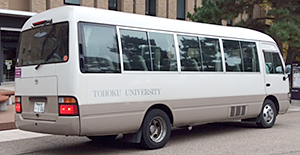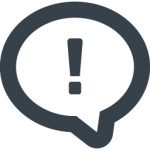 Please be advised that although the bus can be used by students to commute between their homes and the university, researchers and faculty members are only allowed to use the bus to travel between campuses, and not to commute to the university from their place of residence.
IC Card
IC Card (icsca)
With the IC card "icsca", you can use the bus and subway systems smoothly. Add funds and use it to travel around Sendai. When buying a new icsca card, you must pay a deposit of JPY 500. This deposit can be refunded if you no longer need your icsca card and return it. Registered icsca cards can be used as bus commuter passes, subway-bus commuter passes, or the Gakuto Sendai Free Pass.
Where to buy
In addition to ticket vending machines at subway stations, you can buy them on buses, at bus stations, and at some Miyagi Co-op stores. Cards sold on buses and at Miyagi Co-op stores are unregistered icsca cards (JPY 2,000). Click here for the details.
Where to add funds
You can add funds to your card at subway station ticket machines, bus stations, some Miyagi Co-op stores, and on buses. Please let your bus driver know, when you would like to add funds on a bus.
Compatibility with other transportation IC cards
Not only icsca, you can also use other pre-paid transportation cards when you take bus, subway and Sendai Airport Transit.
Acceptable cards: Suica, PASMO, Kitaca, TOICA, manaca, ICOCA, PiTaPa, SUGOCA, nimoca and Hayakaken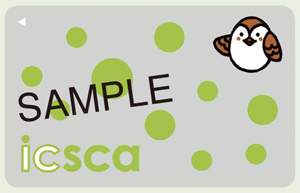 Commuter Pass
Commuter pass offers a discount between your home station and the station where your work or school is.
You pay a flat rate in advance, and you can use the pass an unlimited number of times between the two stations within the validity period for no additional cost. If you commute between the two stations frequently, commuter pass may be a great option. However, depending on how often you use it, paying regular fare tickets could also be more economical than the commuter pass.

Sendai commuter passes are sold in the form of an rechargeable ICSCA card, and it will indicate the type of pass, the 2 stations you commute from, validity period and your personal details.



For trains, buses, and the subway system, there are two kinds of commuter pass available: student commuter pass and regular commuter pass.
Student Commuter Pass
International students are eligible for student commuter passes. In the case of JR student commuter passes, however, please note that they are NOT available to research students, special research students, JSPS Fellows, special auditing students, and credited auditors. In order to purchase the student commuter pass, you need to have a Student Commuter Certificate(Tsugaku Shomeisho). For details, please refer to the website of each transportation facility.
How to purchase the Pass (first time)
Request a Student Commuter Certificate(Tsugaku Shomeisho) at the university
For third-year undergraduates and above: contact your department's Educational Affairs Section
For first- and second-year undergraduate students: go to service window No.4, Education and Student Support Center, Kawauchi-Kita Campus
Non-regular students(research students, special research students, special auditing students): contact the Registrar at your faculty
At a designated ticket office, show the Certificate and purchase the Pass
(You can purchase the Pass up to 7 days prior to your desired date of use)
Regular Commuter Pass
Those without student status can apply for the regular commuter pass.
However please note that getting a regular commuter pass is cost effective if you use the train frequently to commute between the stations you specified in the pass. Otherwise, paying the regular fare maybe the more economical option
How to purchase the pass:
Visit the nearest designated ticket office.
Fill out the application form and specify the stations you will be commuting to and from.
Make the payment and get your commuter pass
The International Support Center can also assist researchers and faculty members in obtaining regular commuter passes. Apply for support service from the link below:
Discount Fare for Students
Student Discounts for Bus and Subway
The "Gakuto Sendai City Bus/Subway Free Pass," is applicable for all students. These passes are for students who go to university by bus, subway, or by bus and subway. The passes are available for non-regular students. Pass types are as follows.
Pass Types
Lines
City Bus Free Pass
・City Bus Only
Subway Free Pass
・Nanboku Line
・Tozai Line
・Nanboku Line and Tozai Line
City Bus and Subway
Free Pass
・City Bus and Nanboku Line
・City Bus and Tozai Line
・City Bus, Nanboku Line, and Tozai Line
For more information on the costs, please visit the Sendai City Transportation Bureau website.
*You will need to show your Student ID Card when purchasing a Free Pass. If you do not have a Student ID Card, please go to the academic affairs section of your faculty or graduate school and ask them to fill out the Student Commuter Certificate (Tsugaku Shomeisho) part of the icsca school commuter pass application form (icsca Tsugaku Teikiken Konyu Moshikomisho), which you can download from the Sendai City Transportation Bureau website (Japanese only).
JR Special Rate for Students
JR offers undergraduate and graduate students a 20% discount for one-way travel of 100 km or longer, if you present a student certificate issued by the University. The student certificates for purchasing such discount tickets are limited to 20 per year and can be issued by a certificate vending machine using a student ID card.
Public Transport (Train, Subway and Bus)
There are several public transport services in Sendai. If you often need to travel along the same route, commuter passes and multiple tickets are economical. Some transportation facilities offer students a discount. Please contact each transport facility for the details.
Train
JR East (East Japan Railway) (Shinkansen, Tohoku Line, Senseki Line, Senzan Line, etc.)
Sendai Airport Transit(Between Sendai Station and Sendai Airport)
Namboku (North to South) Line (Sendai City Transport Bureau)
Tozai (East to West) Line (Sendai City Transport Bureau)
Bus
How to get on buses in Sendai (Sendai Commuter's Guide)
Airlines
Domestic flights make round trips to major cities in Japan.
Sendai Airport
Tickets can usually be purchased up to two months in advance. Reservations can be made by phone or on the Internet. You can also purchase tickets at travel agencies. The following is contact information for major domestic carriers operating at Sendai airport.
Taxis
You can find designated taxi stands at train stations and public facilities. You can also hail one from the street. The passenger door opens and closes automatically. Alternatively, you can call a taxi company and request to be picked up.
Most drivers do not speak foreign languages, so we recommend that you hand the driver your destination in Japanese or point out your destination on a map. Fares vary from city to city and according to the size of the cab. You will be subject to a surcharge at night and in the early morning. The fare is calculated by both distance and time. Tipping is not customary.
The following are calculation charts and estimated taxi fares in Sendai. Please be advised that all information is subject to change and is for your reference only.
An estimate of taxi fares in Miyagi
Sendai
Standard-sized cab
Distance-based Fare
First 1,500m
680 yen
Every 279m afterwards
80 yen
Distance / Time Fare
80 yen for 105 seconds
Areas other than Sendai
Standard-sized cab
Distance-based Fare
First 1,200m
680 yen
Every 279m afterwards
90 yen
Distance / Time Fare
90 yen for 110 seconds