What is a Social Security and Tax Number ("My Number")?
A Social Security and Tax Number (SSTN, also called "My Number")?is an important 12-digit number for the appropriate and efficient management of personal information used for tax, social security, and in relation to disaster prevention measures, that is allocated to each and every individual (including foreign nationals) with a certificate of residence within Japan to be used throughout one's whole life. In principle, the number shall not change unless it has been compromised and there are concerns of fraudulent use.
Please refer here for the detail.
SSTN Notification Card
SSTN will be issued to international students and scholars who are registered as residents in Japan. A Notification Card with your SSTN on it will be sent by registered mail to the address on your residence registration within a few weeks. Please make sure you receive the card and store it in a safe place until leaving Japan.
Please refer here for the detail.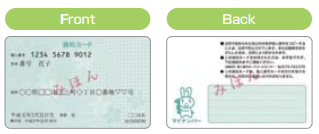 Provision of SSTN
Businesses such as companies are required to record SSTN on various applications and reports prescribed by law and provide them to relevant institutions. As a business, Tohoku university is also required to seek information about SSTN, including dependent family members, from staff and relevant students engaged as TA, RA, etc.
Furthermore, since collecting and providing such information is prohibited other than for procedures prescribed by law, your SSTN should not be provided to others indiscriminately. Please take care concerning suspicious telephone calls, emails, letters and visits, etc. concerning the SSTN System.
Other SSTN Notification Card Procedures
When you move
When you move and report your address change to your municipality or city ward office, please bring your Notification Card and go through the procedure to change the former address on your Notification Card to the new address.
When you leave Japan
Please refer to Leaving Japan
References