Here is some basic shopping guidance for those living in Sendai.
Designated Garbage Bags
If you do not use the designated garbage bags when you dispose of your garbage, your garbage will not be taken by the garbage collectors.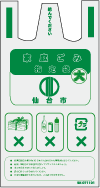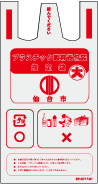 Detergent
It is quite easy to confuse detergent with bleach and fabric softener. Be careful, checking the label and description as thoroughly as you can.
Food (for those with dietary restrictions)
Some designated ingredients and materials are displayed on food packages, yet not all food products display everything. For this reason, it is recommended to ask friends for advice until you get used to the food products found at shops in Sendai.
Facial Tissues and Toilet Tissues
Be aware that facial tissues do not break down in water easily enough to be disposed of in the toilet.
Medicine
Basic medicines are available at convenience stores. At drug stores, there are pharmacists with whom you can consult for your medicine. When a doctor issues a prescription, you will usually be directed to the nearest pharmacy where your prescription can be dispensed. Be sure to bring your National Health Insurance card to the pharmacy as well as to the hospital or clinic.