Updated on October 7, 2022
The Japanese government has announced a major change in border control measures, which will take effect on October 11, 2022. The outline is as follows.
All new foreign nationals entering Japan on or after October 11 are no longer required to apply for ERFS.
They will, in principle, not be subject to restrictions such as COVID-19 test upon entry, quarantine after entry, non-use of public transportation, etc.
However, all entrants are still required either a valid COVID-19 vaccination certificate or a certificate of negative COVID-19 test result conducted within 72 hours prior to departure.
Students must confirm and deal with the procedures necessary to enter Japan by themselves. Be sure to keep yourself updated on the latest entry requirements.
To help you with your smooth entry to Japan, the International Support Center posts the latest information and precautions regarding border measures on its website at the URL below.

Please also read the followings.
Precautions
1. Student Entry Application and AMARYS registration
Students entering Japan on or after October 11 do not have to complete the Student Entry Application form and an AMARYS registration, except for those who apply for 4. support services below.
Those who have already registered with the systems do not have to update their registered information even if there are any changes.
2. Visa application
Those who enter Japan on or after October 11 are not required to submit an ERFS certificate for visa application.
The embassy/consulate may request a "Confirmation form for the use of Fast Track and the Visit Japan Web service." If your COE has the number "

2022

" in red at the upper right corner, you have already submitted the document at the time of your COE application. Please tell the officer that you do not have to submit the form at the time of your visa application.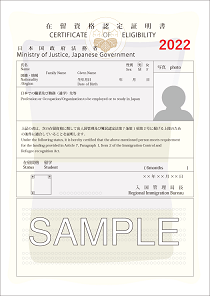 3. Fast Track and the Visit Japan Web service
Fast Track and the Visit Japan Web service allow you to complete some entrance and quarantine procedures before departure, and avoid congestion at the immigration.
In accordance with the Japanese government's policy of promoting these services, Tohoku University ask all international students to use Fast Track and the Visit Japan Web service upon entry to Japan.
4. Support Services
To help students start their life in Japan smoothly, the International Support Center provides various support services including assistance with ward office procedures and opening a bank account.
If you wish to apply for such support, please first consult with the contact person at your department (school/faculty, institute, etc.) of Tohoku University.
Once receiving your AMARYS ID and password from the International Support Center, please complete the application via AMARYS.
To see what support is available, please refer to the links below.
Support Services | International Support Center